Despite a depressed global economic outlook, Mr Rajendra S. Pawar, Chairman of National Association of Software and Services Companies (Nasscom) and NIIT group, still maintains an optimist attitude towards India's BPO industry. He was recently quoted in a Nasscom Leadership Forum, as saying that he sees a strong possibility of India's IT_BPO industry expanding to $225 billion by 2020.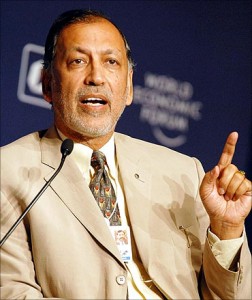 For the industry to hit the targeted $225 billion by 2020, from the current 100 billion, it needs to achieve a CAGR of 13 per cent for the next eight years. Mr Rajendra attributes the high growth rate to the lower base the industry dealt with. But, as the industry hits the critical figure of 100 billion, that type of growth rates may be difficult to sustain.
In order to fill the $125 billion gap, Mr Rajendra expects that the industry will expand its reach to new geographies and new verticals, while using new business models like cloud-based offerings.
http://www.thehindubusinessline.com/industry-and-economy/info-tech/article2900505.ece
http://www.rediff.com/business/slide-show/slide-show-1-the-man-behind-niits-success/20110503.htm