Multi commodity exchange (MCX) finally announced a priced for its shares, in its upcoming initial public offering. The price band is set at Rs 860 to Rs 1,032 per share, with its shareholders hoping to raise up to Rs 663 crore, through the IPO. The offer is set to hit the market, from Feb 22 to Feb 24.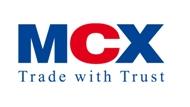 According to the MCX vice-chairman, Jignesh Shah, the IPO is expected to set the trend for other commodity exchanges in India. The listingwill put MCX's profile at par with other listed global exchanges like the NASDAQ, CME Group, NYSE Euronex and the SGX, he further added.
The IPO is made up off 64.27 lakh shares of Rs 10 each, which account for 12.6% stake in the company's shareholding. MCX is also looking for anchor investors, who would be allocated 15% of the shares on offer.
http://articles.economictimes.indiatimes.com/2012-02-16/news/31067093_1_largest-commodity-mcx-glg-financials-fund